Regulation 5124R.1 Equity, Inclusivity, and Diversity in Education
Submitted by: Eastern Suffolk BOCES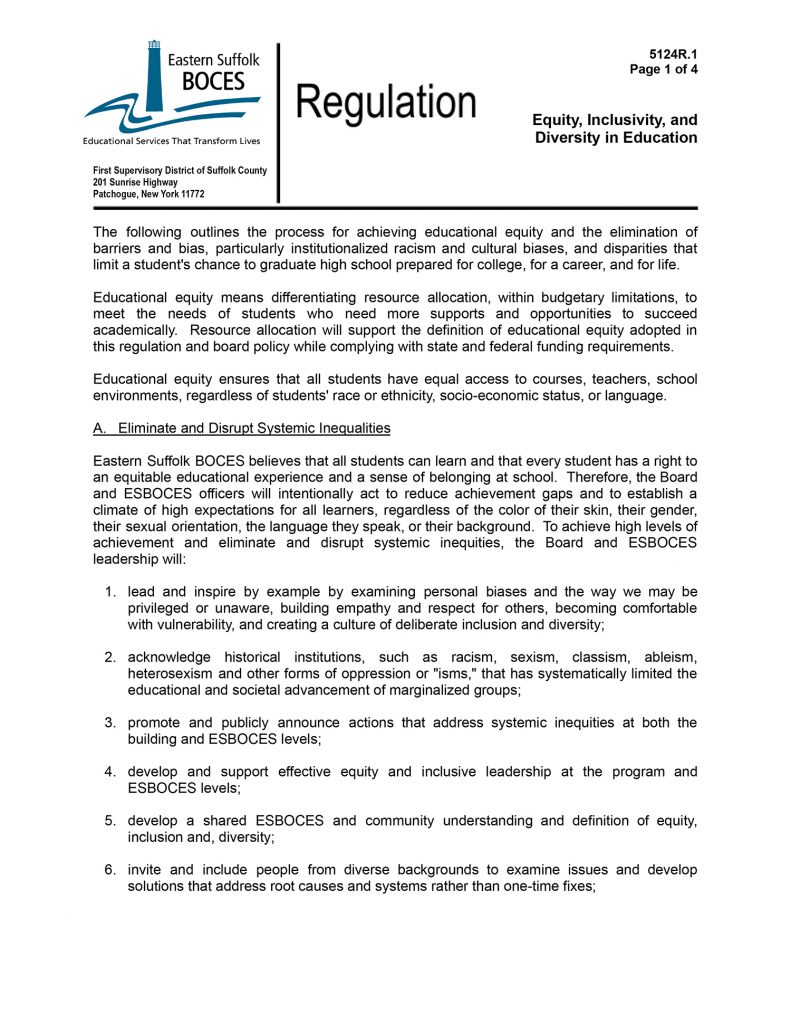 View Regulation 5124R.1 as a Google Doc
About this resource
This regulation was adopted by Eastern Suffolk BOCES in May 2021 as part of its policy manual. The regulation "outlines the process for achieving educational equity and the elimination of barriers and bias, particularly institutionalized racism and cultural biases, and disparities that limit a student's chance to graduate high school prepared for college, for a career, and for life."
Strengths
Responsibility is directed at the DS and COO level and there are clear commitments to action throughout the document.
The document balances the need to elevate the focus on racial diversity, while also being consistent in naming that diversity also includes other identities and marginalized populations.
There is a commitment and clear understanding of how to approach systemic equity work, rather than transactional DEI work.
Opportunities for growth
There is a direct link between the health and well-being of school staff and the health and well-being of students. The document is very strong in the articulation of the rationale, commitments, and actions to creating equity for students. To balance out the health of the organization, more attention to the needs of staff would elevate the importance of applying the equity lens to staff experiences and culture.
Language to engage staff is softer than other directives in the document. Specifically, "Section B: Aim to Ensure Systemic Equity" directive 2: "encourage staff to be actively engaged in the development and implementation of culturally responsive teaching and learning practices and curriculum."

Encourage is a softer word and gives the impression that the engagement in this work is optional or voluntary, rather than mandatory. Consider shifting this language to communicate that it is the responsibility of staff to actively engage in the development and implementation of culturally responsive teaching and learning practices in the curriculum.

Examples could include: ensure staff, engage staff

This document is full of good material that is crucial to communicate to all stakeholders – the current form is regulation language and structure. Consider developing more accessible versions that shift the language and structure into formats that are accessible to various audiences that are not familiar with regulatory language.
---
About Eastern Suffolk BOCES
201 Sunrise Hwy, Patchogue, NY 11772
esboces.org
631-289-2200
Component Districts: 51
Employees: 1,000+
Locale: Large Suburban
Additional demographics are not available at the BOCES level.