Policy 5124 Equity, Inclusivity, and Diversity in Education
Submitted by: Eastern Suffolk BOCES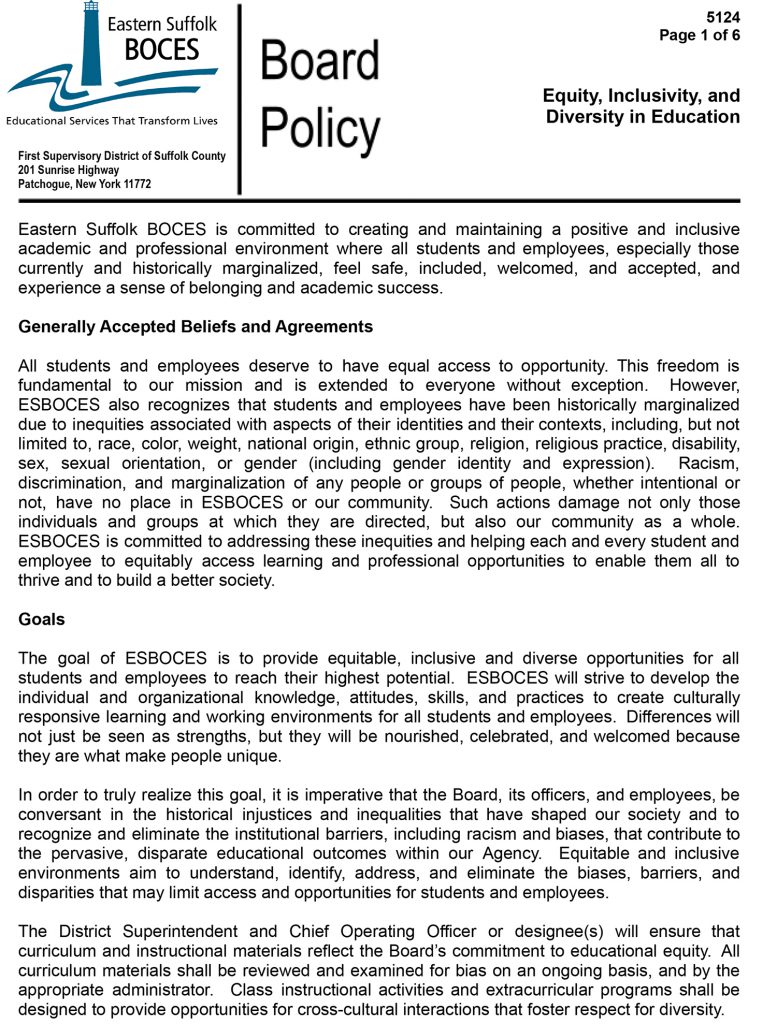 View Policy 5124 as a Google Doc
About this resource
This policy was adopted by Eastern Suffolk BOCES as part of its policy manual. The policy establishes the board's responsibility "to develop the individual and organizational knowledge, attitudes, skills, and practices to create culturally responsive learning and working environments for all students and employees."
Strengths
This document is a clear statement from the Board level that diversity, equity, and inclusion is a necessary and stated priority.
The document does a good job of naming that DEI is for everyone, while simultaneously calling out systemic inequities that specifically harm historically marginalized groups, in particular the impact of racism on students, employees, and communities of color.
Strong commitment for on-going evaluation of curriculum and classroom activities to ensure bias is mitigated and activities are equitable and inclusive.
The policy establishes a body responsible (DEI Committee & Inclusivity Advisory Council)) for support and guidance in DEI efforts
Attention is paid to where the communication efforts are to be directed to ensure that the policy is integrated into existing communication structures for similar policies
Opportunities for growth
Goals of the document have clear directives to review and ensure inclusivity in curriculum and classroom activities, the goals do not have comparable language ensuring that policies and practices that impact staff will be reviewed and ensure to be built to be inclusive. Add formal language that drives attention to DEI work that impacts staff.
Consider adding representational requirements for the DEI Committee and Inclusivity Advisory Council that includes both social identity (race, gender, disability) and positional identity (staff, faculty, students, parents etc.). Representation matters, without formal guidance on who should be at the table the Committee and Council runs the risk of being too homogenous to be effective.
Currently the policy is reviewed annually, consider more frequent review (twice a year)
Equity Definitions are good but not comprehensive, we recommend ESBOCES include definitions of other forms of institution/systemic inequities to inform the reader of other forms of inequities in addition to institutional and internalized racism. This will help the document read more intersectionally and align with the definition of diversity located earlier in the document. Definitions/groups should include but not be limited to:

Ableism
Sexism
Homophobia
Transphobia
Immigrants
English Language Learners

Definition of disaggregated data includes binary male/female gender signifiers. This is how data is currently collected, however, the overall document doesn't acknowledge gender beyond the binary. The inclusion of the binary without acknowledging genders beyond the binary erases Transgender and Gender Non-conforming people. This definition also refers to People of Color as non-whites. We recommend a language shift away from centralizing white people and use People of Color or BIPOC (Black, Indigenous, People of Color) or disaggregated racial terminology to represent the many races and ethnicities represented in disaggregated data categories.
---
About Eastern Suffolk BOCES
201 Sunrise Hwy, Patchogue, NY 11772
esboces.org
631-289-2200
Component Districts: 51
Employees: 1,000+
Locale: Large Suburban
Additional demographics are not available at the BOCES level.