Niskayuna Strategic Plan for Equity
Submitted by: Niskayuna CSD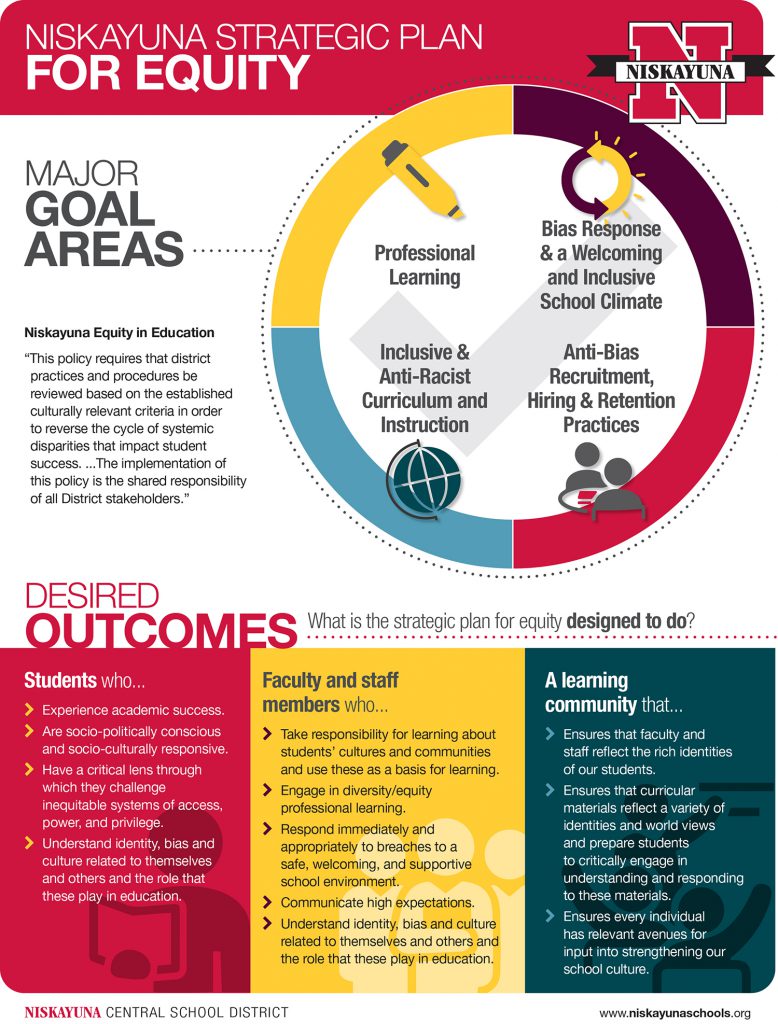 About this resource
This public-facing document is a summary of the Niskayuna Central School Districts Strategic Plan for Equity. This plan was developed in collaboration with a team of 21 stakeholders, which included administrators, teachers, family members, current and former students. It outlines differences in student outcomes in areas such as attendance, suspensions, and participation in AP/college-credit courses.
Purpose: To publicly share our commitment to addressing inequities within our community and to continually report on these and other data points.
Intended audience: District staff, faculty, administration, and community members.
Strengths
Intentional communication of high level changes/action on DEI and anti-racism work to the community.
The focus areas reflect NYSED's Culturally Responsive-Sustaining Education Framework.
There are clear and measurable actions outlined

Completed actions communicate transparency and credibility.
Future actions communicate accountability and sustained work.

The outlined goals cover multiple areas of DEI and anti-racism work, diversifying the district, identifying barriers to access and resources, and conflict resolution.
The visual design is engaging with varying focal points to draw in the viewer/reader.
Opportunities for Growth
There are several actions that are aimed at building DEI/Anti-racism knowledge and skills for staff as well as actions aimed at cultivating diversity in the staff ranks. There are fewer actions that ensure that the working environment for all staff is equitable and inclusive for staff as professionals in the working environment. This work may be happening within the district. If so, consider adding to the flyer to show a balance of support for the employee experience at Niskayuna.
Include in the document who can be contacted for more information.
Consider where this document is available for access and/or how it is distributed to stakeholders.
According to the Flesch Kincaid system, the language/wording is most accessible to 18-21 year olds (a score of approximately 12); this is above the recommended reading level of 8. Consider simplifying language where possible and adding a glossary of terms.
---
Niskayuna CSD
1239 Van Antwerp Road, Schenectady, NY 12309
niskayunaschools.org
518-377-4666
Size of district: 4,229 students
Racial makeup:

67.4% White
16.3% Asian or Asian/Pacific Islander
6.3% Hispanic/Latino
5.1% of students are two or more races
4.6% Black
0.2% American Indian or Alaska Native
0.1% Native Hawaiian or other Pacific Islander.

Median household income: $114,655
Percent eligible for Free and Reduced-Price Lunch: 14%