Eastern Suffolk BOCES Strategic Plan: Aug. 2021 Update
Submitted by: Eastern Suffolk BOCES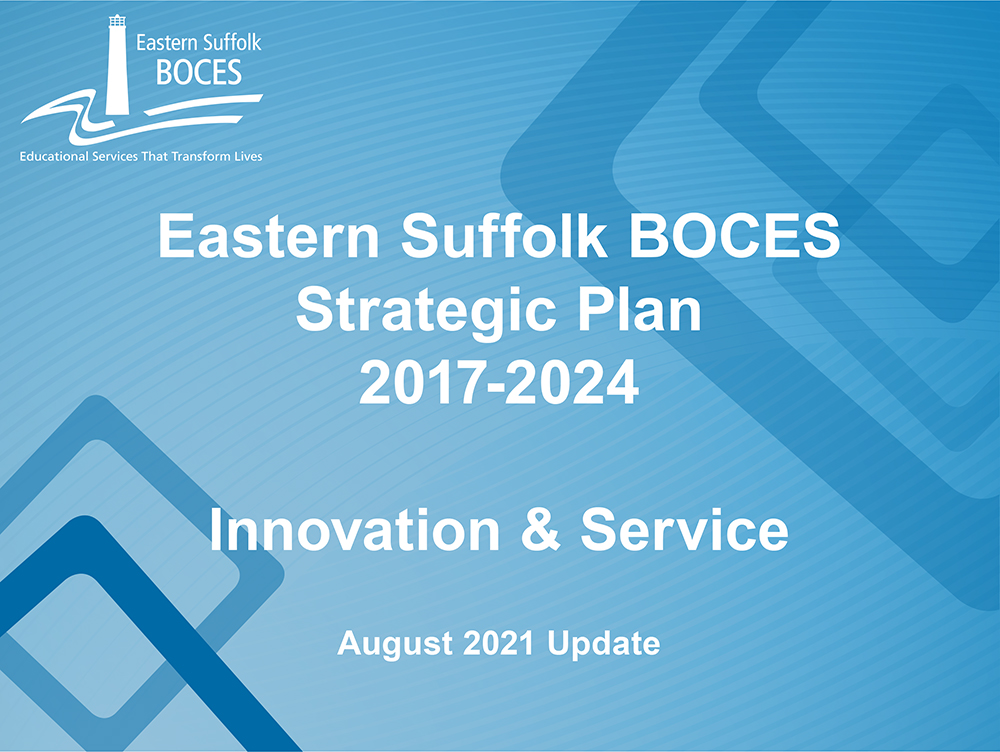 ES BOCES Strategic Plan 2017-2024 Aug 2021 update
About this resource
Since 1998, the development and implementation of the Eastern Suffolk BOCES Strategic Plan has been a top priority of the organization. The plan is based on the organization's vision for the 2017-2024 period. The plan, which provides a road map for the agency's future, has been developed with an equity lens and involvement and engagement with diverse stakeholders, including the ESBOCES Board, staff, parents, community members, representatives of component school districts, local business owners, and government officials are all represented in the planning process.
Strengths
DEI is mentioned early and often. There is a clear commitment and effort put into thinking strategically to not treat DEI work as separate from the overall strategic work of ESBOCES, but rather as an integral part of what the work of ESBOCES does on a daily basis.
The Director of DEI has multiple layers of responsibility and collaboration points across multiple goals (it is important to ensure that this person is well resourced, connected to colleagues in other areas, and staffed).
DEI is integrated into multiple aspects of the plan, with clear DEI specific goals, responsible parties, strategies to accomplish the goals, and indicators of success
NYSED Culturally-Sustaining and Responsive model is referenced throughout the document and is integrated into the strategic plan.
Opportunities for Growth
At this stage in the organizational DEI journey, it makes sense that the DEI goals are non-specific by community. In the future, consider creating goals that speak to addressing needs of specific communities or issues. For example, increase representation of BIPOC staff across all districts by a certain percentage.
Explore how BOCES can be a leverage for change by identifying places where DEI work can be required versus optional.
---
About Eastern Suffolk BOCES
201 Sunrise Hwy, Patchogue, NY 11772
esboces.org
631-289-2200
Component Districts: 51
Employees: 1,000+
Locale: Large Suburban
Additional demographics are not available at the BOCES level.